Yoga 101
April 4, 2020 @ 12:00 pm

-

April 25, 2020 @ 2:00 pm

$200
Event Navigation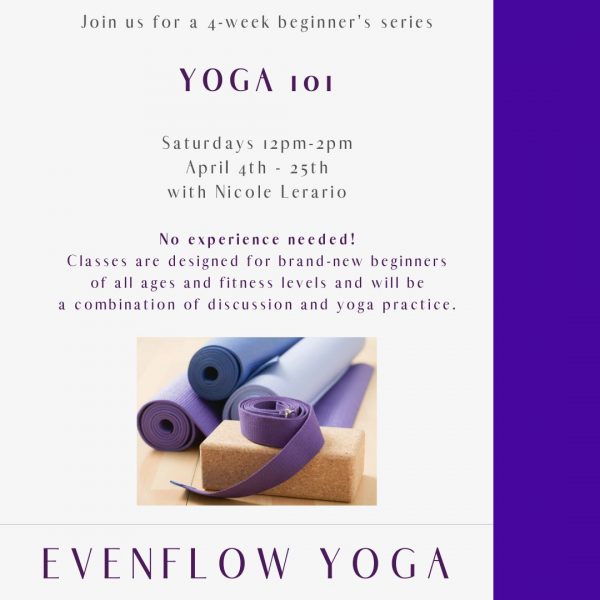 Are you new to yoga? Do you feel a regular class is intimidating?
Perhaps you had one or two experiences and you felt you weren't flexible enough or it was too difficult…
If so, our Yoga 101 course is for you!
This 4-week Introduction to Yoga course will gently guide you to the fundamentals of Hatha Yoga, the most widely practiced and thought of form of yoga in the United States. In Yoga 101, you will learn HOW to move, HOW to breathe, and HOW to connect the two so you are always feeling safe and feeling good, all while building strength, flexibility, balance and focus.
Things we will cover
– basic history of yoga
– posture and alignment
– breath control and meditation techniques
– Sun Salutations
– Basic Seated, standing and lunging poses for strength and balance
– Easy restorative poses for relaxation
– Modifications to accommodate your body's abilities
– The use of props (blocks, blankets, straps)
And most importantly, you'll learn how to take the lessons we learn on the into your daily life – because Yoga isn't a workout – it's a way of living in balance and harmony with yourself and everyone around you.
NO EXPERIENCE NEEDED!
Classes are designed for brand-new beginners of all ages and fitness levels and will be a combination of discussion and yoga practice.
All you need to bring is yourself! We've got you covered with a mat (or bring your own).
Saturday's from 12pm-2pm, April 4th through April 25th.
INVESTMENT: $200*
*Because we desire to give you personalized attention to each student, the workshop is limited to 12 people. No refunds are given for missed classes.
EvenFlow Yoga
560 River Rd.
Unit L
Fair Haven, NJ 07704

(p): 908.461.2666
(e): info@evenflowyoga.com
Achieve balance and weave yoga into your daily life.
"What I love about EvenFlow Yoga is that they truly link up body, mind and spirit. I love the dharma talks before we start our practice. It is not just a trendy workout here- it is the real deal. All the teachers are caring and attentive. I've referred many friends and clients to EvenFlow Yoga."
"What you'll get from a class at EvenFlow: a challenge, but you will leave completely uplifted, a little something to ponder spiritually, a nice dose of useful anatomy, guidance from supremely talented instructors and most times a little giggle. I am a beginner and I have never felt like a beginner."
"Great space and great atmosphere. The energy and love was awesome and the community was great. Christian is a great teacher and delivers a true authentic message with a great command, attitude and inter weaves some much needed humor into the flow so we can find it in ourselves."
"Every time I take a yoga class at Even Flow I have such a positive attitude for the whole day. All the teachers are very helpful and have so much passion. Highly recommend! Best yoga around!"
"My yoga studio of choice away from home. I love all the instructors and the space in Red Bank is special. I highly recommend the studio!"