30 Day Chakra Tuning for Difficult Times
April 3, 2020 @ 6:00 pm

-

April 30, 2020 @ 8:00 pm

$25
Event Navigation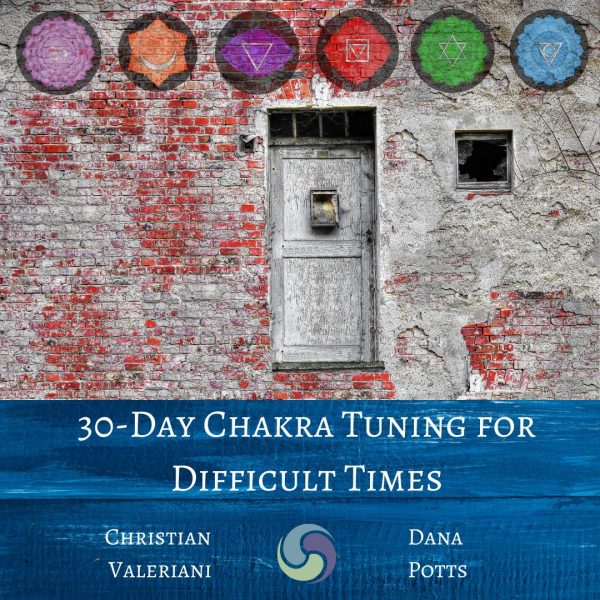 Anxiety. Fear of the unknown. Projection. Stress. Sadness. Longing for loved ones. Boredom. Frustration.
During these difficult times have any of these feelings surfaced for you? Join Christian and Dana Potts for a 30 Day Chakra Tuning series that will help you hit reset on your lives and for future days to come.
This series offers Chakra specific Yoga, Satsang (community conversation), and Reiki (energy healing).  Each session will focus on a different Chakra; allowing you to release your fears, keep your anxiety at bay, stay connected with your higher Self and most importantly engage with our beloved Yoga community.
6pm-8pm on the following dates:
Friday, April 3- Root – Family of Origin and staying connected to family from distance
Thursday, April 9- Sacral – Reevaluating relationships to creativity, finance and romance
Friday, April 10- Solar Plexus – Self esteem and feeling stable in uncertain times
Thursday, April 16- Heart – Prayers and love to our global community
Friday, April 17- Throat – Speaking words of truth about feelings that are unearthed during times of challenge
Thursday, April 23- Third Eye – Intuition and preparing yourself for great events to happen
Thursday, April 30- Crown – Trust that God's plan is much greater than our small human endeavors
Schedule:
6pm-6:30pm- Vinyasa with Christian specific to that Chakra.
6:30pm-7:30pm- Discussion, journaling and community support.  Please feel free to share what you have been feeling, learning, experiencing, cooking, doing for fun, etc.
7:30pm-8pm- Restorative Flow with Dana including Chakra specific mudras, releasing of energy blockages and Reiki.
$25 per session.  Please contact us for special pricing for all seven sessions: info@evenflowyoga.com
EvenFlow Yoga
560 River Rd.
Unit L
Fair Haven, NJ 07704

(p): 908.461.2666
(e): info@evenflowyoga.com
Achieve balance and weave yoga into your daily life.
"What I love about EvenFlow Yoga is that they truly link up body, mind and spirit. I love the dharma talks before we start our practice. It is not just a trendy workout here- it is the real deal. All the teachers are caring and attentive. I've referred many friends and clients to EvenFlow Yoga."
"What you'll get from a class at EvenFlow: a challenge, but you will leave completely uplifted, a little something to ponder spiritually, a nice dose of useful anatomy, guidance from supremely talented instructors and most times a little giggle. I am a beginner and I have never felt like a beginner."
"Great space and great atmosphere. The energy and love was awesome and the community was great. Christian is a great teacher and delivers a true authentic message with a great command, attitude and inter weaves some much needed humor into the flow so we can find it in ourselves."
"Every time I take a yoga class at Even Flow I have such a positive attitude for the whole day. All the teachers are very helpful and have so much passion. Highly recommend! Best yoga around!"
"My yoga studio of choice away from home. I love all the instructors and the space in Red Bank is special. I highly recommend the studio!"