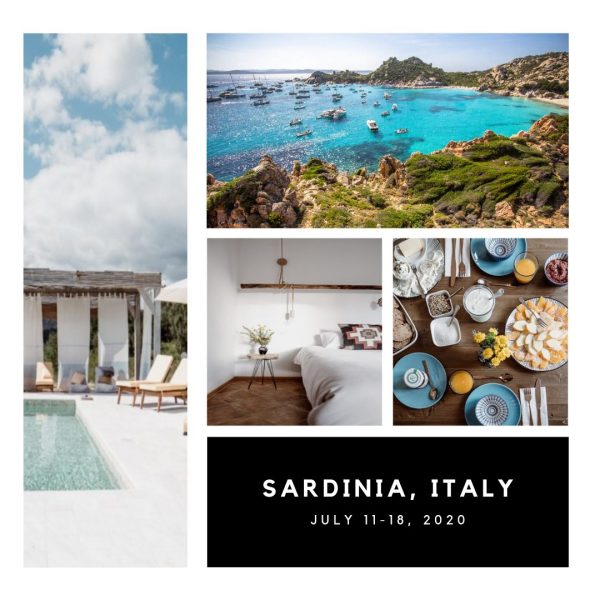 EVENFLOW UNPLUGGED: SARDINIA, ITALY
July 11-18, 2020
Do Italy family style- next stop: Sardinia! Nestled in the hills of beautiful Sardinia, Italy, The Balaiana  Eco Center is one of the most beautiful natural landscapes in Europe designed to provide all the wellbeing and space you need to unplug from technology, the everyday hustle and reunite with your center.
The tranquility and unspoiled nature will enhance the quality of your daily yoga & meditation practice. Did you know that Sardinia is one of the 5 "Blue Zones" in the world where people not only live longer but better? The air and water quality is of the highest and supports the cleansing and healing processes.  Balaiana uses seasonal, organic food from nearby farmers, has sophisticated water treatment systems, and uses natural materials to build the structure.
Join us from July 11th-18th, 2020 to regenerate in peaceful spaces that this stunning environment created for you or relax by the turquoise pool. Be touched by the warm sunlight and amazed by the endless stars of the night sky.  Break bread with your fellow yogis family style- and bake some while you're at it.  Hike the glorious coast of Sardinia then dip your toes in the Mediterranean.  Most important, unplug.
Included in cost:
6 night stay at the Balaiana Eco retreat Center. All rooms have private bath.
Freshly prepared organic meals daily (mostly vegetarian)
Daily Yoga classes
Daily meditation practice
Authentic Italian cooking class
Hiking excursion thru the mountains of Sardinia
Please note:
Airfare not included
Taxi or rental car not included
Any additional excursions, massages or add-ons not included
Daytime excursion & dinner on Wednesday July 15, 2020 not included. Please stay posted for further details as we will heading to the archipelago of La Maddalena and the beautiful town of Costa Smeralda.
This retreat is limited to 19 yogis.  A $500 deposit is required to secure your room. Balance due March 31, 2020.
Email us now for pricing & to reserve your room: evenflowyogamarketing@gmail.com