EvenFlow  Unplugged: Iceland 
November 9-16, 2024
Iceland Yoga Retreat
 
North Iceland is the ideal location for yogis & adventurers who desire an authentic experience at the heart of this magical country.
Away from the mainstream tourism of Reykjavik, we'll take you North to the town of Akureyri (pronounced aa-kr-ay-ree) Iceland's second largest city (population = 18,000).
Once one of Iceland's best kept secrets, Akureyri has been voted #1 European Destination by Lonely Planet several times.
Akureyri's mild climate on the longest fjord in the country and its close proximity to the Arctic Circle make it a must-see and must-experience destination.
Majestic landscapes, Icelandic horses, waterfalls, secret hikes off the beaten path, volcanic craters and geothermic nature baths are just some of the features offered. The various seasons offer their own additional gifts – the midnight sun, thermal baths, forest lagoons and chasing the Northern Lights.
In partnership with the only modern yoga and wellness center in Northern Iceland, we invite you to join EvenFlow Yoga on an adventure you will never forget!
SAMPLE ITINERARY:
Saturday – Arrivals, restorative yoga, welcome dinner at local restaurant in town.
Sunday – Breakfast, morning yoga, excursion to Hrisey Island, group dinner.
Monday – Breakfast, morning yoga, free time then after lunch excursion to Geo Sea, individual dinners in town.  https://www.geosea.is/about-us/geosea
Tuesday – Breakfast, morning yoga, yoga workshop, free night/ individual dinners in town.
Wednesday – Breakfast, morning yoga, excursion to Myvatn Geothermic area with nature spa, Godafoss waterfall, volcanic landscapes, Myvatn Nature Baths (the Blue Lagoon of the North) and plenty more.  Group Dinner in Myvatn.
Thursday – Breakfast, morning yoga, free morning & after lunch Forrest Lagoon. Students taxi back to town for individual dinners. https://www.forestlagoon.is
 Friday – Breakfast, morning yoga, special walking and driving tour including hike in magical canyon nature preserve, group dinner.
Saturday- Breakfast, pick up from apartment and transfers to airport.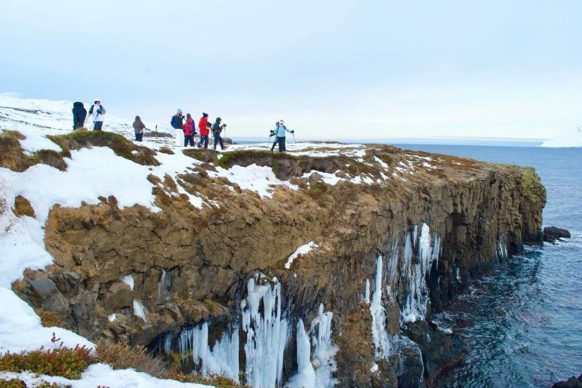 HOUSING:
The accommodations for this retreat are divided into four shared apartments for students.  Each apartment has two double rooms and one single room with a shared bath.
Additionally, each apartment is equipped with a kitchen, living room, washer/ dryer, jacuzzi, internet access and terrace.
The yoga center, which is a short 5 min drive across the fjord, is also equipped with restrooms, showers, saunas, changing rooms, jacuzzi and relaxation room.
TRAVEL:
In order to get to your final destination in Akureyri, North Iceland, you will need to take TWO flights; first from your home city to Keflavik International and then a 40 minute flight from Reykavik Domestic Airport to Akureyri (this smaller flight is from a different airport).  When it becomes time to book flights, we will help coordinate.  *All round trip airport transfers are included in price.
WHAT'S INCLUDED
– All RT airport transfers
– Inland transfers to apartments, yoga classes and excursions.
– 7 nights in Akureyri accommodations
– Use of wellness center / yoga space for classes. All yoga mats and props included.
– Starting with dinner on the first night, all breakfasts, lunches and 4 Dinners (3 open dinners in Akureyri)
– Ferry ride and tour / hike to Hrisey Island
– GeoSea Excursion
– Forest Lagoon Excursion
– Myvatn full day Excursion
– Akureyri tour with local waterfall excursion.
– Northern Lights excursion (TBD based on solar activity)
– 2 open days for participants
NOT INCLUDED:
– Any taxi or rental cars not included (or needed)
– Airfare
– Any additional excursions, massages or add-ons not included
– 3 individual dinners in town.
PRICING:
Each apartment is shared; with two double rooms, one single room and a shared bath.
Double room with shared bath: $4180 per person
Single Room with shared bath: $4300 per person
There is only one apartment with two double rooms. Each double room has a private bath.
Double room with private bath: $4480 per person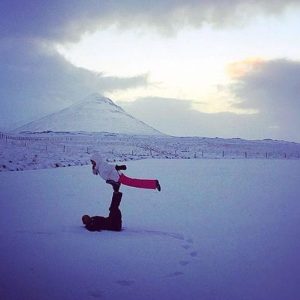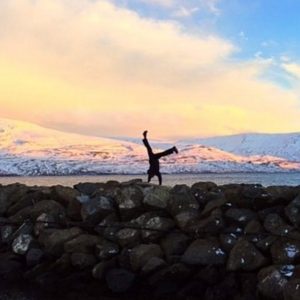 PAYMENTS:
A non-refundable deposit of $500 USD is due with your registration.
SECOND PAYMENT APRIL 1, 2024: After the initial $500 deposit has been made, a second payment of $750 is due on 4/1/24.
FINAL PAYMENT JULY 1, 2024: Remaining balance is due in full on 7/1/24.
 ***SIX MONTHS PRIOR TO RETREAT, ENROLLMENT IS NON-REFUNDABLE.
Please reach out to Christian or Dana with all and any questions you may have: evenflowyogamarketing@gmail.com 
EvenFlow Yoga
560 River Rd.
Unit L
Fair Haven, NJ 07704

(p): 908.461.2666
(e): info@evenflowyoga.com
Achieve balance and weave yoga into your daily life.
"What I love about EvenFlow Yoga is that they truly link up body, mind and spirit. I love the dharma talks before we start our practice. It is not just a trendy workout here- it is the real deal. All the teachers are caring and attentive. I've referred many friends and clients to EvenFlow Yoga."
"What you'll get from a class at EvenFlow: a challenge, but you will leave completely uplifted, a little something to ponder spiritually, a nice dose of useful anatomy, guidance from supremely talented instructors and most times a little giggle. I am a beginner and I have never felt like a beginner."
"Great space and great atmosphere. The energy and love was awesome and the community was great. Christian is a great teacher and delivers a true authentic message with a great command, attitude and inter weaves some much needed humor into the flow so we can find it in ourselves."
"Every time I take a yoga class at Even Flow I have such a positive attitude for the whole day. All the teachers are very helpful and have so much passion. Highly recommend! Best yoga around!"
"My yoga studio of choice away from home. I love all the instructors and the space in Red Bank is special. I highly recommend the studio!"