New Moon Workshop
March 20, 2020 @ 6:30 pm

-

8:30 pm

$35
Event Navigation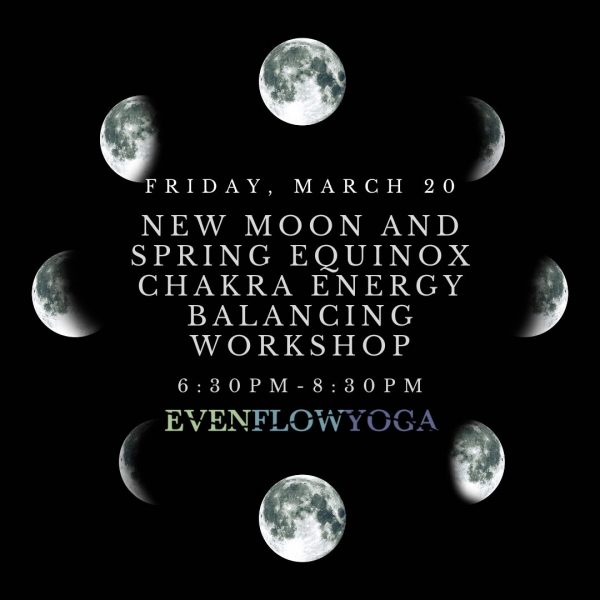 Use the energy of new moon in the first sign of Aries combined with the power of Spring Equinox to cleanse and restore your spirit!
This workshop will focus on using crystal healing techniques to align our physical, mental, emotional & spiritual energies. We will use gentle yoga, sound meditation, reiki, oil massage and crystals to:
•Cleanse our Auras
•Open & balance our Chakra energy bodies
•Promote healing and recovery from injury and trauma including pain, heartbreak, loss and stress
•Detox and cleanse dis-ease within the mind, body and spirit
EvenFlow Yoga
560 River Rd.
Unit L
Fair Haven, NJ 07704

(p): 908.461.2666
(e): info@evenflowyoga.com
Achieve balance and weave yoga into your daily life.
"What I love about EvenFlow Yoga is that they truly link up body, mind and spirit. I love the dharma talks before we start our practice. It is not just a trendy workout here- it is the real deal. All the teachers are caring and attentive. I've referred many friends and clients to EvenFlow Yoga."
"What you'll get from a class at EvenFlow: a challenge, but you will leave completely uplifted, a little something to ponder spiritually, a nice dose of useful anatomy, guidance from supremely talented instructors and most times a little giggle. I am a beginner and I have never felt like a beginner."
"Great space and great atmosphere. The energy and love was awesome and the community was great. Christian is a great teacher and delivers a true authentic message with a great command, attitude and inter weaves some much needed humor into the flow so we can find it in ourselves."
"Every time I take a yoga class at Even Flow I have such a positive attitude for the whole day. All the teachers are very helpful and have so much passion. Highly recommend! Best yoga around!"
"My yoga studio of choice away from home. I love all the instructors and the space in Red Bank is special. I highly recommend the studio!"