EFY Live!
March 16, 2020

-

March 31, 2020

$20
Event Navigation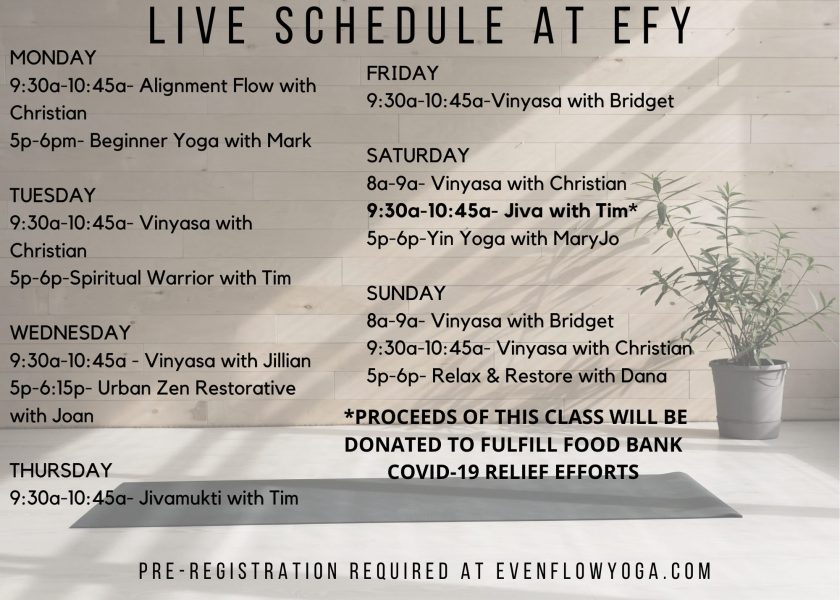 Here's what you need to do for live classes:
Download the app ZOOM (its free!) from either your computer or on your mobile device.
Sign into MINDBODY and pre-register for the class EFY Live! Please be sure to register at least one hour before class begins.
A half hour before the start of class, we'll email you the link and password to the class. Please be sure your email is updated and linked to your MINDBODY account.
You will be given the option to join with or without video. Join the group or practice quietly in the luxury of your home studio (aka family room!)
We kindly ask for your patience as we begin this new process.
EvenFlow Yoga
560 River Rd.
Unit L
Fair Haven, NJ 07704

(p): 908.461.2666
(e): info@evenflowyoga.com
Achieve balance and weave yoga into your daily life.
"What I love about EvenFlow Yoga is that they truly link up body, mind and spirit. I love the dharma talks before we start our practice. It is not just a trendy workout here- it is the real deal. All the teachers are caring and attentive. I've referred many friends and clients to EvenFlow Yoga."
"What you'll get from a class at EvenFlow: a challenge, but you will leave completely uplifted, a little something to ponder spiritually, a nice dose of useful anatomy, guidance from supremely talented instructors and most times a little giggle. I am a beginner and I have never felt like a beginner."
"Great space and great atmosphere. The energy and love was awesome and the community was great. Christian is a great teacher and delivers a true authentic message with a great command, attitude and inter weaves some much needed humor into the flow so we can find it in ourselves."
"Every time I take a yoga class at Even Flow I have such a positive attitude for the whole day. All the teachers are very helpful and have so much passion. Highly recommend! Best yoga around!"
"My yoga studio of choice away from home. I love all the instructors and the space in Red Bank is special. I highly recommend the studio!"