Upcoming Events
Events List Navigation
December 2023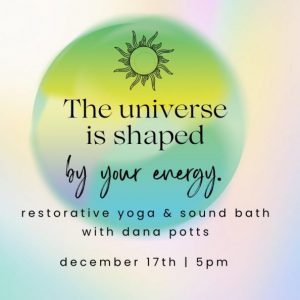 Join Dana Potts for her monthly Restorative Yoga & Sound Bath class! This calming & gentle class will be held once a month on Sunday evenings.  Ease your body and mind with restorative yoga which involves slow, passive body stretches & postures for longer holds, breathing consciously all along. With the beautiful healing tones of the alchemy crystal bowls, your mind will be easily shifted into a meditative state. All levels welcome! SIGN UP HERE! 
Find out more »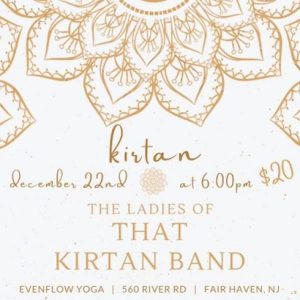 Join together to sing songs of devotion at Kirtan! Singing Kirtan, or even just listening to Kirtan music is an ancient devotional practice in Yoga, Bhakti Yoga, which when combined with the influence of mantra, can bring deep bliss and joy into your heart. The sacred sounds can be sung by anyone- no experience needed! SIGN UP HERE!
Find out more »
+ Export Events
EvenFlow Yoga
560 River Rd.
Unit L
Fair Haven, NJ 07704

(p): 908.461.2666
(e): info@evenflowyoga.com
Achieve balance and weave yoga into your daily life.
"What I love about EvenFlow Yoga is that they truly link up body, mind and spirit. I love the dharma talks before we start our practice. It is not just a trendy workout here- it is the real deal. All the teachers are caring and attentive. I've referred many friends and clients to EvenFlow Yoga."
"What you'll get from a class at EvenFlow: a challenge, but you will leave completely uplifted, a little something to ponder spiritually, a nice dose of useful anatomy, guidance from supremely talented instructors and most times a little giggle. I am a beginner and I have never felt like a beginner."
"Great space and great atmosphere. The energy and love was awesome and the community was great. Christian is a great teacher and delivers a true authentic message with a great command, attitude and inter weaves some much needed humor into the flow so we can find it in ourselves."
"Every time I take a yoga class at Even Flow I have such a positive attitude for the whole day. All the teachers are very helpful and have so much passion. Highly recommend! Best yoga around!"
"My yoga studio of choice away from home. I love all the instructors and the space in Red Bank is special. I highly recommend the studio!"