Ayurveda & Chakras Module
November 14, 2020 @ 12:00 pm

-

6:00 pm

$399
Event Navigation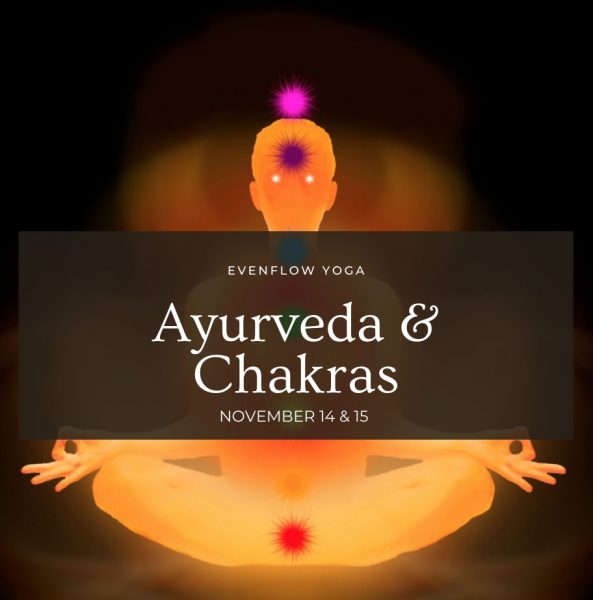 November 14th & 15th, 12-6pm each day
$399 for entire weekend
Ayurveda, the sister science of Yoga, is one of the oldest holistic healthcare systems in the world. It is centered around the five elements: ether, air, fire, water, earth. These elements make up the three doshas of Ayurveda—Vata, Pitta, Kapha. The composition of these elements in your mind and body systems greatly affects your health and well-being. Once you know your primary dosha, you can follow specific recommendations to bring your health into balance by addressing your individual needs.In this module you will learn about the specific doshas and address health concerns from a physical, mental, emotional, and spiritual perspective.
Furthermore, on the second day of this module, you'll take a deeper dive into each of the Chakras. In Sanskrit this word translates to "wheel" or "disk," but references a spiritual energy center within the human body, of which there are seven along the spine, and through the neck and the crown of your head. While each chakra has its own distinct properties, they're all thought to work as a system. That means if one's out of balance, it affects all the rest. Learn about the signs of multiple blocked chakras, and that any good yoga class or healer can work to align all of them at once, creating a clear channel for prana to flow from head to toe.
EvenFlow Yoga
560 River Rd.
Unit L
Fair Haven, NJ 07704

(p): 908.461.2666
(e): info@evenflowyoga.com
Achieve balance and weave yoga into your daily life.
"What I love about EvenFlow Yoga is that they truly link up body, mind and spirit. I love the dharma talks before we start our practice. It is not just a trendy workout here- it is the real deal. All the teachers are caring and attentive. I've referred many friends and clients to EvenFlow Yoga."
"What you'll get from a class at EvenFlow: a challenge, but you will leave completely uplifted, a little something to ponder spiritually, a nice dose of useful anatomy, guidance from supremely talented instructors and most times a little giggle. I am a beginner and I have never felt like a beginner."
"Great space and great atmosphere. The energy and love was awesome and the community was great. Christian is a great teacher and delivers a true authentic message with a great command, attitude and inter weaves some much needed humor into the flow so we can find it in ourselves."
"Every time I take a yoga class at Even Flow I have such a positive attitude for the whole day. All the teachers are very helpful and have so much passion. Highly recommend! Best yoga around!"
"My yoga studio of choice away from home. I love all the instructors and the space in Red Bank is special. I highly recommend the studio!"