Women's Global Happiness Day
October 18, 2019 @ 6:00 pm

-

8:00 pm

$20
Event Navigation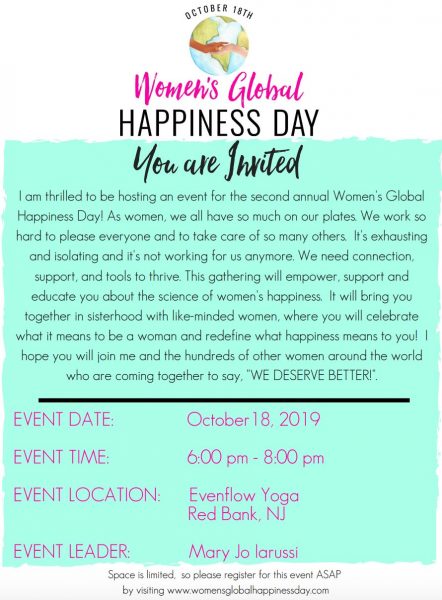 Join EFY & MaryJo Iarussi for Women's Global Happiness Day! This day will be dedicated to empowering women to increase their own happiness and that of the women around them. A day for every woman alive to claim that she's worthy of joy, self-love, and fulfillment. A day for women to gather together, as sisters, to celebrate and honor what it means to be a whole woman.
We will support each other by reinstating sisterhood and community, educating ourselves about the science of women's happiness and empowering one another by creating a whole new definition of womanhood and happiness!
The evening will include:
-Welcome – snacks – gathering – upbeat/fun music
-Confidentiality Agreement
-Purpose of WGHD
-Brief Yin practice
-Introductions and intention setting
-Ritual – to ground and create sacred/safe space
-Women's declaration
-Connector exercises – PERMA Wheel
-Sharing exercise
-Discussion::
o What's holding us back, looking back – moving forward
o Using our pain (lessons) as our fuel
o Sharing tools and finding purpose
o Importance of community women supporting women
-"I love me when" exercise
-"Truth" exercise
-NYC meeting game
-Play time – dance break – movement
-Circle of love/gratitude
-Reiki – healing circle
-"I see you" exercise
-Closing circle
All proceeds of the event will be donated to 180 Turning Lives Around
EvenFlow Yoga
25 Broad Street, 2nd Floor
(Entrance on Mechanic Street)
Red Bank, NJ 07701

(p): 908.461.2666
(e): info@evenflowyoga.com
Achieve balance and weave yoga into your daily life.
"What I love about EvenFlow Yoga is that they truly link up body, mind and spirit. I love the dharma talks before we start our practice. It is not just a trendy workout here- it is the real deal. All the teachers are caring and attentive. I've referred many friends and clients to EvenFlow Yoga."
"What you'll get from a class at EvenFlow: a challenge, but you will leave completely uplifted, a little something to ponder spiritually, a nice dose of useful anatomy, guidance from supremely talented instructors and most times a little giggle. I am a beginner and I have never felt like a beginner."
"Great space and great atmosphere. The energy and love was awesome and the community was great. Christian is a great teacher and delivers a true authentic message with a great command, attitude and inter weaves some much needed humor into the flow so we can find it in ourselves."
"Every time I take a yoga class at Even Flow I have such a positive attitude for the whole day. All the teachers are very helpful and have so much passion. Highly recommend! Best yoga around!"
"My yoga studio of choice away from home. I love all the instructors and the space in Red Bank is special. I highly recommend the studio!"