Reiki Level III Certification
January 26, 2020 @ 11:30 am

-

4:00 pm

$250
Event Navigation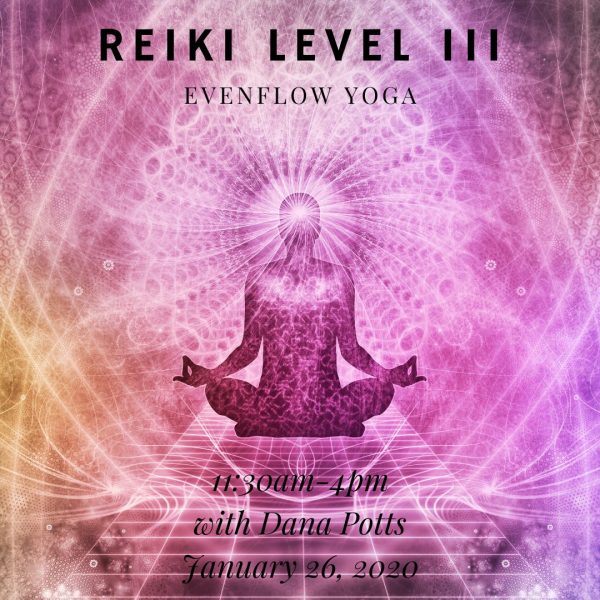 Reiki Level 3 is the Master Level of Reiki and the first stage towards becoming a Reiki Master Teacher! You will begin to embody and integrate Reiki into your life, so it becomes who you are rather than what you do, increasing your capacity to channel the Universal Energy.
By gaining the Master Symbol, you are allowed to work on a spiritual level and help contact your own inner truth, helping you go deeper in your own self -healing as well as the healing of others.
This level is for those wanting to make a commitment to Reiki and make it an important part of their lives. At this level you don't 'Practice' Reiki, you 'Become' Reiki. To become a Reiki Master means becoming an ambassador for Reiki and should be viewed in this light.
Certification Includes:
▪︎Discussion of Reiki in your life after Reiki Level 2 Attunement
▪︎Short assessment on Reiki Levels 1 and 2
▪︎Receive 4th Usui symbol and 4 other reiki symbols. The 4th Usui symbol can facilitate you to unlock the full potential of the Reiki Energy and assist to greatly increase your own healing;
▪︎Explore any stumbling blocks you may have experienced in self practice / treating others. Gain support in developing self -healing and as a healer.
▪︎Expand your energy and practice channeling even more energy.
▪︎Counseling and our role and boundaries as a Reiki Master.
▪︎Reiki Master Certificate
Be sure to bring:
– Water
– Journal
– Wear something comfy
– Crystals or Malas (optional)
Limit 6 people
EvenFlow Yoga
560 River Rd.
Unit L
Fair Haven, NJ 07704

(p): 908.461.2666
(e): info@evenflowyoga.com
Achieve balance and weave yoga into your daily life.
"What I love about EvenFlow Yoga is that they truly link up body, mind and spirit. I love the dharma talks before we start our practice. It is not just a trendy workout here- it is the real deal. All the teachers are caring and attentive. I've referred many friends and clients to EvenFlow Yoga."
"What you'll get from a class at EvenFlow: a challenge, but you will leave completely uplifted, a little something to ponder spiritually, a nice dose of useful anatomy, guidance from supremely talented instructors and most times a little giggle. I am a beginner and I have never felt like a beginner."
"Great space and great atmosphere. The energy and love was awesome and the community was great. Christian is a great teacher and delivers a true authentic message with a great command, attitude and inter weaves some much needed humor into the flow so we can find it in ourselves."
"Every time I take a yoga class at Even Flow I have such a positive attitude for the whole day. All the teachers are very helpful and have so much passion. Highly recommend! Best yoga around!"
"My yoga studio of choice away from home. I love all the instructors and the space in Red Bank is special. I highly recommend the studio!"