Form & Function: Semi-Private Training
January 8, 2022 @ 9:30 am

-

February 2, 2022 @ 6:45 pm

$599.00
Event Navigation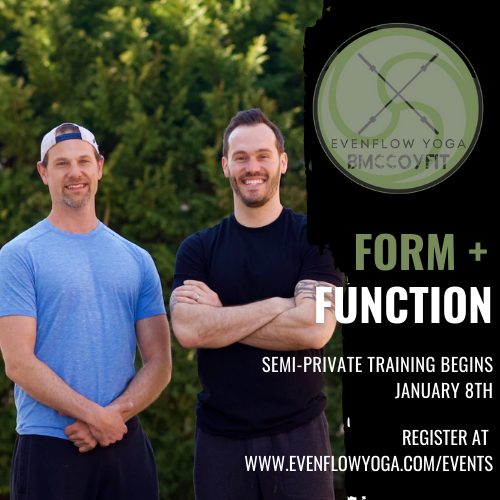 Plateauing in the same workout? Inspired to remain active without potential injuries or healing from a previous one? Looking to build some exercise momentum that's sustainable and rewarding?
EvenFlow Yoga & BMCCOYFIT have joined forces to bring you Form & Function.  This 4-week semi-private training program combines Yoga Therapeutics and Functional Weight & HIIT Training to optimize strength, balance and injury prevention.
Long standing friends, colleagues and now neighbors in Fair Haven, Christian and Brett offer a combined 30+ years of expertise in private training, health and wellness. Christian has over 15 years of teaching yoga & body mechanics and Brett, over 14 years of elite personal strength & fitness training.
This 4-weeks semi-private training includes 8 sessions, 2 classes a week of personalized movements tailored to each individual in the program.  Each class begins with Christian guiding a therapeutic yoga sequence customized to prepare and balance the body. Next, Brett teaches functional movements to build muscle, increase strength and sustain endurance. Finally, the session will end with restorative yoga stretches, keeping muscles flexible, restored and quick to recover.
This program begins January 8th through February 1st and is limited to 8 individuals which allows for personalized training.   Each semi-private session begins at EvenFlow Yoga for the yoga warmup and the functional training portion takes place next door at BMCCOYFIT.  Both studios are located at 560 River Road for your convenience.
All that is required is a yoga mat.
Schedule:
Saturday, January 8th 9:15-10:30am
Wednesday, January 12th 5:30-6:45pm
Saturday, January 15th 9:15-10:30am
Wednesday, January 19th 5:30-6:45pm
Saturday, January 22rd 9:30-10:45am
Wednesday, January 26th 5:30-6:45pm
Saturday, January 29th 9:30-10:45am
Wednesday, February 2nd 5:30-6:45pm
Make the month of January yours- learn your body and learn your form. Take your strength to the next level with integrity.  This program also makes a great holiday gift for others that are looking to jump start their fitness!
Investment: $599
EvenFlow Yoga
560 River Rd.
Unit L
Fair Haven, NJ 07704

(p): 908.461.2666
(e): info@evenflowyoga.com
Achieve balance and weave yoga into your daily life.
"What I love about EvenFlow Yoga is that they truly link up body, mind and spirit. I love the dharma talks before we start our practice. It is not just a trendy workout here- it is the real deal. All the teachers are caring and attentive. I've referred many friends and clients to EvenFlow Yoga."
"What you'll get from a class at EvenFlow: a challenge, but you will leave completely uplifted, a little something to ponder spiritually, a nice dose of useful anatomy, guidance from supremely talented instructors and most times a little giggle. I am a beginner and I have never felt like a beginner."
"Great space and great atmosphere. The energy and love was awesome and the community was great. Christian is a great teacher and delivers a true authentic message with a great command, attitude and inter weaves some much needed humor into the flow so we can find it in ourselves."
"Every time I take a yoga class at Even Flow I have such a positive attitude for the whole day. All the teachers are very helpful and have so much passion. Highly recommend! Best yoga around!"
"My yoga studio of choice away from home. I love all the instructors and the space in Red Bank is special. I highly recommend the studio!"