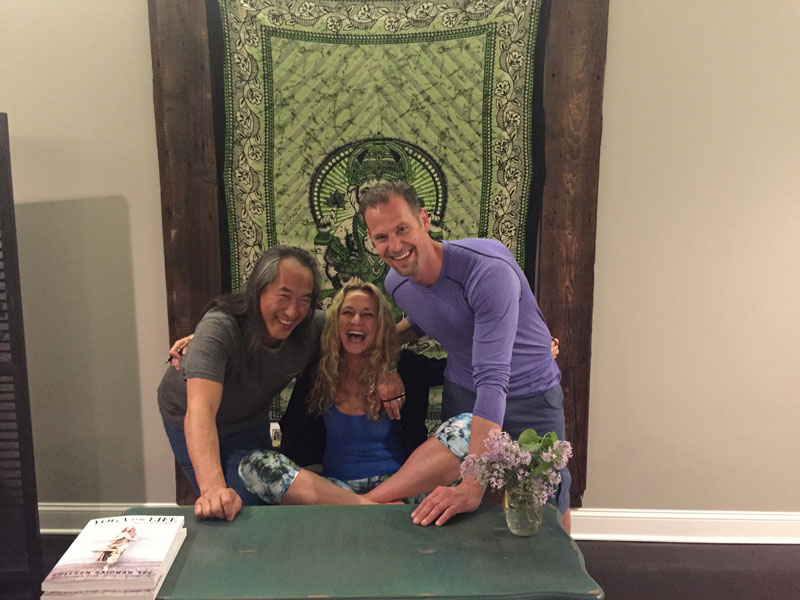 EvenFlow Yoga feels blessed to have hosted some of the world's best Yoga teachers such as Rodney Yee, Colleen Saidman Yee, Jason Crandell, Leslie Kaminoff, Sadie Nardini, Matt Giordano, and many more! EvenFlow Yoga carefully curates' workshops and events to enhance the teachings of yoga and integrate our practice into our everyday lives. Follow us on FaceBook & Instagram for upcoming workshops & events!
Grand Opening Kirtan & Flow
Time: 6pm-8pm
Date: October 28, 2017
New Location: EFY @ 25 Broad Street (entrance on Mechanic Street)
Celebrate EvenFlow Yoga's new space at 25 Broad Street with a Kirtan & Flow class hosted by Christian & sacred songstress, Johanna Beekman!  Johanna is a multi-genre recording artist, sacred songstress, yoga teacher, and kirtan artist. She is loved for her rich, soulful voice, radiant spirit, and evocative, inspiring songs.
Her critically acclaimed Heart Beats One album and her forthcoming album Beyond Love: Soothing Songs for the Soul feature many of her original songs and chants. Johanna has studied chanting with kirtan artists such as Gina Sala, Shantala, Jai Uttal, Krishna Das and Ram Dass; voice with renowned improvisational jazz singer Rhiannon and Grammy award-winning gospel artist Isaiah Jones Jr.; and songwriting with the mother of women's music Chris Williamson.
Johanna's more recent work includes collaborations with award-winning yoga teachers and artists such as Saul David Raye, Ben Leinbach, Kia Miller, Sara Ivanhoe, Sianna Sherman, David Newman, Donna De Lorey, Dave Stringer, and Girish. She has served at most of the leading Kirtan and Yoga and Wellness festivals across the nation, such as Bhakti and Shakti Fest and Beloved Sacred Art and Music Festival.