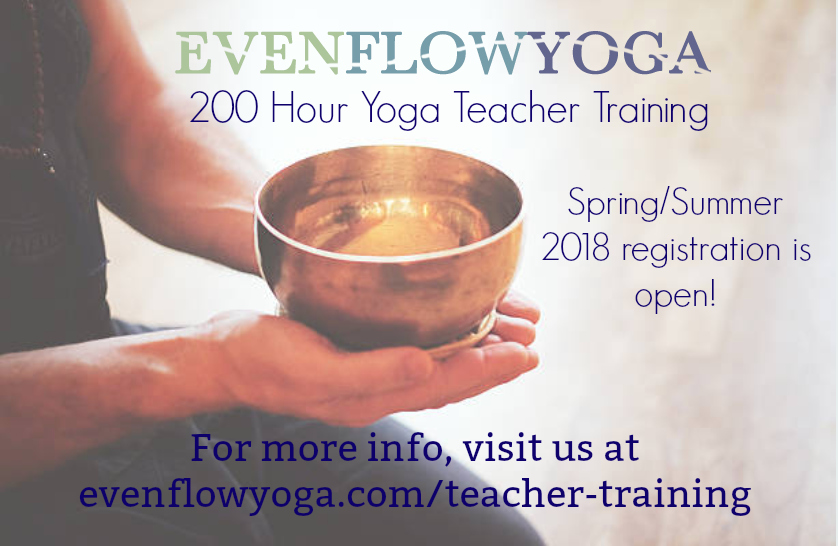 EvenFlow Yoga Spring/ Summer 2018 200 Hour Teacher Training :: Registration Open!
At EvenFlow Yoga, our teacher training program is unique in that we are faithfully steeped in traditional yoga principles, yet maintain a modern approach to sequencing, creativity, and anatomical integrity of the asana practice. We have three goals for our committed trainees:
1. To develop a personal/spiritual experience
2. To deeply understand the history and theory of yoga
3. To become sound, authentic yoga teachers.
These goals take work, dedication, and practice. Our program will offer you a process whereby you can unveil your true voice and self, so that teaching yoga becomes a vocation of love and service. And, if your intention is not to teach yoga, our process will enhance the relationship you have with yourself and others.
The yoga practice begs us to remain in the present moment, be adaptable to our ever-changing lives, and sustain awareness around our unwavering souls. The yoga practice paired with our process at EvenFlow Yoga will guide you to access your fullest potential.
EvenFlow's training is a six month program that consists of ten weekend intensives and individual meetings that fulfill all the requirements of the 200 Hour Yoga Alliance 200 Certification and beyond. Our next session begins April 2018 and runs through September 2018.
The cost is $3,500. A $500 deposit is required to reserve your spot. Final payments in full are due April 1, 2018. Thank you!
Please contact Christian for payment options and to reserve your space: 908.461.2666 or info@evenflowyoga.com
Fridays- 6:30pm-9pm
Saturdays- 11am-6pm
Sundays- 11am-5pm
Syllabus & Dates
2018
April 7th and 21st
May 5th and 19th
June 9th and 23rd
July 14th and 28th
August 25th
September 8th
Syllabus to come