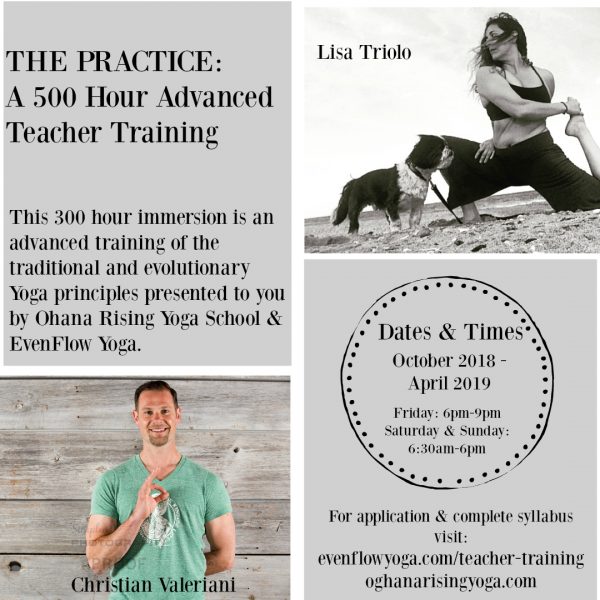 THE PRACTICE: A 500 Hour Advanced Teacher Training
EvenFlow Yoga & Ohana Rising Yoga School come together to present to you The Practice: A 500 Hour Advanced Teacher Training.
Lead by Christian Valeriani & Lisa Triolo, two pillars of our beloved Yoga community, The Practice brings you their combined skill, knowledge and wisdom of the Yoga Practice to enhance your courage, grace, and desire to go within & learn the purity of the timeless teachings.​
With over 25 years of combined teaching , they  have crafted the below syllabus to include applied anatomy and physiology, science of the breath & Pranayama, intelligent sequencing and an in depth study of the Yoga Sutras and Bhagavad Gita.  This program is suited for those who are already 200 hour certified yoga teachers.  Upon completion of this 300 hour program, graduates will have a cumulative 500 hours.  This program is recognized by Yoga Alliance.
For more information, please contact Christian 908.461.2666 OR Lisa 908.930.7256
Application
Times & Dates
Friday: 6pm-9pm
Saturday & Sunday: 6:30am-6pm
October 2018-April 2019 (12 weekends)
October:  5-7 & 19-21
November:  2-4 & 16-18
December: 14-16
January: 11-13
February: 1-3 & 15-17
March: 1-3, 15-17, 29-31
April: 12-14
 Syllabus
THE PRACTICE
What is Yoga?

The forms of Yoga

Evolution & History

The Yoga Sutras & The Balance of the Mind

Patanjali's 8 Limbs of Yoga Practice

Bhagavad Gita… an extraordinary conversation of Soul Realization
THE AWAKENING
Mantra, the Nature & Science of Sound

Kirtan

The Science of the Breath & Pranayam

The Mind, mantra & Meditation

Relaxation & Yoga Nidra

Creating a Sacred Space
THE ASANA
Advancements of Asana 

Yogology:

A Complete Guide to the Structure & Art of all Movements in Asana

Applied Anatomy, Physiology 

& Biomechanics

Navigating common practices and re-aligning

The Art of Adjustments & Assists

Ayurveda, Marma Points

Asana, Mudra & Bandha

Structure & Sequencing

The art of Restorative Yoga
THE JOURNEY OF THE TEACHER
Awakening the Heart

Authentic Communication

The Call of the Teacher

Code of Ethics & Consciousness in the modern world

Service to your Students 

& Virtues of a Teacher

ETHICAL Business in Yoga

Teaching Special Circumstances 

& Overcoming Challenges

Finding Your Niche
THE CYCLE OF LIFE
Journey of the Soul

Cultivating your personal practice

Healing the Body

Yogic Diet:  Foods for Health, Healing & Balance
Pricing
NO FEE FOR APPLICATION
FULL COURSE FEE $4,500 WHEN PAID IN FULL BY OCTOBER 5
EARLY REGISTRATION DISCOUNT OF $250 WHEN PAID IN FULL BY AUGUST 1
$500 DEPOSIT WITHIN 5 DAYS OF INTERVIEW TO RESERVE