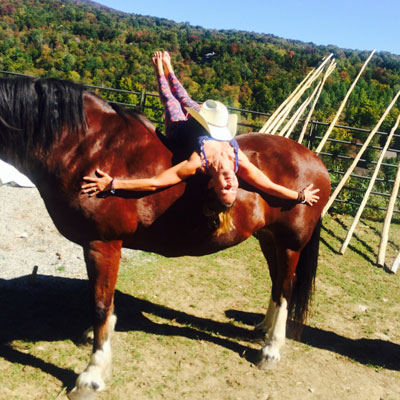 Joan Schwartz-Berg is as passionate about yoga as she is about many things in her life and it shows, as she guides students that come to her class with passion, compassion, joy, laughter and love. Joan has studied and practiced various styles of Yoga, Meditation and Ayurveda in many places in these states and around the world for over 20 years and has been instructing for over 15 years. Joan is committed to teaching proper alignment while encouraging her students to explore and experience their own expression of the practice. Whether it's a gentle class or strong Vinyasa flow, Joan's highest intention is to guide others to discover their own healing and happiness within with the support of these sacred practices.
Joan is a 500 hour Certified Yoga Instructor  (Yoga Works and Yoga Shanti Urban Zen), EquiYoga Certified Instructor, Certified Earth Horse Energy Healing practitioner, Reiki Master practitioner and a BASI (Body of Arts and Sciences) Pilates Comprehensive Certified Instructor, Certified Personal Trainer and former Certified Crossfit coach.  Joan teaches Vinyasa, Restorative Urban Zen and Yin as well as Yoga for Veterans and Yoga with Horses and Yoga for Veterans with Horses.
As a side gig, Joan lovingly works as an animal attendant in caring for 17 Therapy horses at  Sunnyside Equestrian Center (home of SPUR) where many great things happen in the world of therapeutics and horses and where she also teaches Zen Horse Zen You classes – Yoga and Horses in partnership.
Tags: Yoga Teachers Red Bank, Red Bank Yoga, Monmouth County Yoga, Little Silver Yoga, Best Yoga Teachers Red Bank

Categorized in: Uncategorized