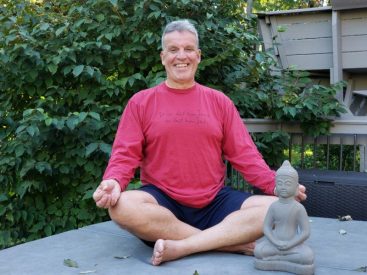 A native of Kearny, NJ., Bob frequented many Grateful Dead shows back in the day before moving his family to Navesink in 1989.  He is the proud father of 2 great children and has been blissfully married for 40 years to the same beautiful wife.
Bob proudly served as a Port Authority Police Officer for 31 years.  The academy recruited Bob in 1985 where he was assigned to various Precincts and Commands such as The World Trade Center, Port Newark, K-9 bomb dog detection, Newark and Teterboro Airports. Bob received several commendations throughout his years of service.
After many years on the job, even five years into retirement, a nagging back inspired Bob to search for a more holistic approach to injury recovery.  Through the recommendation of a friend, Bob found Yoga and immediately loved the practice.  Moreover, Bob found a deep sense of peace that eliminated the ripple effect of stress and anxiety, a byproduct of his job.
Bob's approach to his teaching is truly authentic and loyal to the experience of the student.  His classes are perfect for a deep sense of relaxation, gentle music and muscular relaxation.  A teacher not to miss.
Categorized in: Uncategorized