Restorative Sounds: A Journey Through the Chakras
April 19, 2020 @ 6:30 pm

-

8:00 pm

$25
Event Navigation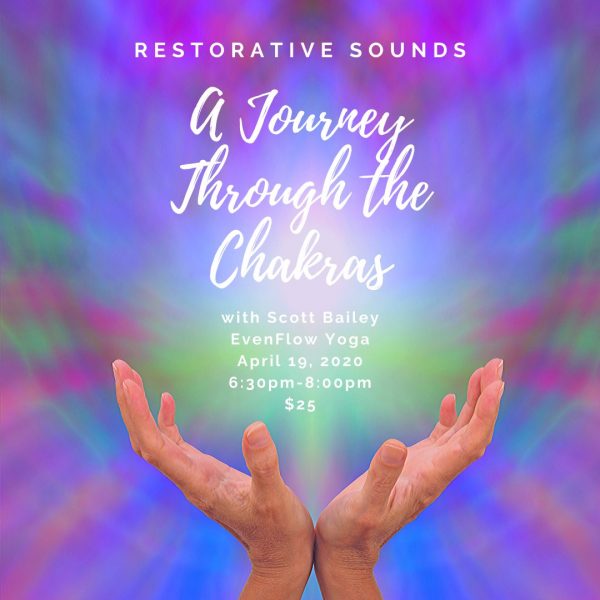 Take the time and space to access deep levels of active relaxation through Sound Therapy allied to restorative yoga. The combination of these two practices leads to a state of elevated spiritual receptivity in which all levels of the body can open to healing.
A Chakras Sound Bath is a meditative event that intentionally uses sound to invite therapeutic or restorative effects. The Chakras are seven centers of spiritual power or wheels of energy that flow through the body. They run from the base of the spine to the crown of the head. The sound bath follows a Chakra Cleansing Crystal Pattern to gently open, realign and cleanse the energy flowing through the chakras.
We will begin with a renewing sequence of Restorative Yoga poses. While resting in the supported postures with your props, you will be guided through the Sound Bath immersive and powerful journey using Symphonic Gongs, singing crystal and Tibetan bowls and various chimes.
Sound brings a sense of wholeness to the body. The sound of harmonic vibrations created by singing bowls, gongs and other overtone-emitting instruments are intended to stimulate the alpha and theta brain waves. These waves are associated with deep meditative and peaceful states that are highly conducive to healing. Sound can also slow down the heart and respiratory rate, creating a therapeutic effect on the mind and body.
The goal of the experience is to invite deep rest and relaxation, and explore self-inquiry and self-discovery. A Sound Bath experience is both uniquely personal and collaborative.
EvenFlow Yoga
25 Broad Street, 2nd Floor
(Entrance on Mechanic Street)
Red Bank, NJ 07701

(p): 908.461.2666
(e): info@evenflowyoga.com
Achieve balance and weave yoga into your daily life.
"What I love about EvenFlow Yoga is that they truly link up body, mind and spirit. I love the dharma talks before we start our practice. It is not just a trendy workout here- it is the real deal. All the teachers are caring and attentive. I've referred many friends and clients to EvenFlow Yoga."
"What you'll get from a class at EvenFlow: a challenge, but you will leave completely uplifted, a little something to ponder spiritually, a nice dose of useful anatomy, guidance from supremely talented instructors and most times a little giggle. I am a beginner and I have never felt like a beginner."
"Great space and great atmosphere. The energy and love was awesome and the community was great. Christian is a great teacher and delivers a true authentic message with a great command, attitude and inter weaves some much needed humor into the flow so we can find it in ourselves."
"Every time I take a yoga class at Even Flow I have such a positive attitude for the whole day. All the teachers are very helpful and have so much passion. Highly recommend! Best yoga around!"
"My yoga studio of choice away from home. I love all the instructors and the space in Red Bank is special. I highly recommend the studio!"