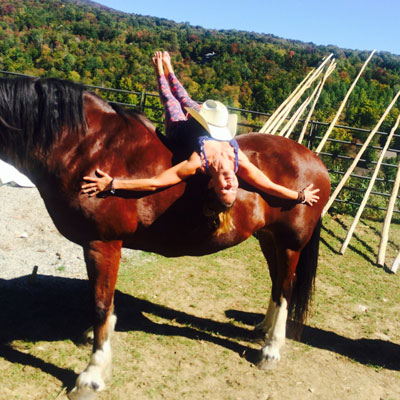 Joan Schwartz is a 200 hour Yoga Works Yoga Instructor, a certified BASI (Body of Arts and Sciences International) comprehensively trained Pilates instructor, a certified Equiyoga (partnering Yoga with horses) instructor, a Reiki practitioner, a former certified Crossfit coach and is currently completing her clinical hours for her Urban Zen Integrative Therapy certification with Yoga Shanti, NYC. She teaches Vinyasa, Restorative and Yin as well as Yoga for Veterans and Yoga with Horses.
Joan joyfully teaches with attention to alignment and believes in a strong Vinyasa and a sweet Savasana. Joan encourages her students to listen to their own bodies and it's innate wisdom to bring health and healing into their lives through the physical and spiritual practices of Yoga. She believes in the healing properties of plant medicine and incorporates the use of their essential oils as well as breathing and body awareness meditations into her Restorative classes to help facilitate a deep state of relaxation which promotes self healing.
Joan has been practicing Yoga for over 20 years and teaching for over 15 years. She has studied and practiced with many amazing and gifted teachers in the United States and India and is filled with gratitude that she learns something new from them every time she gets on her mat. Joan lovingly works as an animal attendant in caring for 16 Therapy horses that live at Sunnyside (SPUR) where many great things happen in the world of therapeutics and horses and where she also teaches Zen Horse Zen You classes.
Tags: Yoga Teachers Red Bank, Red Bank Yoga, Monmouth County Yoga, Little Silver Yoga, Best Yoga Teachers Red Bank

Categorized in: Uncategorized